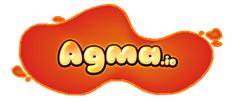 Welcome to the Agma.io Wiki, Powered by Agma.io Fans!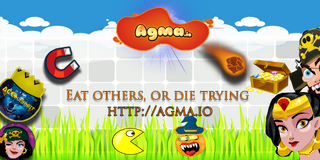 Agma.io is a unique MMO cells eat cells game with optimized features for great gameplay
The goal of the game is to gain as much mass as possible by eating food and other players smaller than you, while avoiding larger players. Through out the game you can collect Powerups, Earn Coins (which can be used to buy skins, powerups, wearables etc) and wear Skins and Wearables. Agma has progressed from idea to development over the course of nearly three years.
Before Agma.io was designed and made, there use to be a different game that Agma players use to enjoy. It useto be called Agarioforums.io. Better known as AGF. AGF had many servers and players worldwide. Agma and AGF community are housed at http://agarioforums.net, which had over 14,000 Registered members as of Nov 17.  powerups, and a megaphone to shout to all servers, are one of the main things that make this game fun to play. Join all the thousands of people who play this game today.
Agma.io Blog and Forums
Agma.io has a blog created and sustained by Squid, a an agma player and owner of the agmaforum.com community. The Agma.io Blog contains news and information about Agma, updates, features, tips, tricks, and free giveaways such as bots and coins.

Blog link:
Agma.io Forums Daily Reward
AgmaForum.com has frequent giveaways of bots/minions and coins. You have to sign up at the forums, and make some posts. The forum owner Squid will reward your agma account with bots or coins, completely for free.
Agma-Forums link:

Agma.io In French
At the following link you will find the french agma.io wiki whit informations and others tips about agma.io's world !
Popular Articles
Latest activity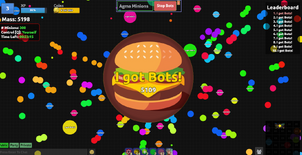 In this game you can get up to 300 bots! Bots are one of the things .io players like, so agma.io made it so you can either buy, or use your coins in game. There is all sorts of bots you can get like 100 mass bots for 1 hour, the least you can get is 10 bots.
==
Agma Discord == https://discordapp.com/invite/agmaio
Agma Spin Wheel
In Agma.io you can find a spin Wheel, where you can win a free reward every 24 hours. You can also buy spins for 16,000 coins. You can win many diffirent rewards in the spin wheel.
Prizes:
Santa Hat (Worth 4,000,000 coins)
Instant Recombine (Worth 9,000 coins)
Spawn Mothercell (Worth 38,000 coins)
Spawn Portal (Worth 39,000 coins)
Growth Potion +1000 (Worth 12,000 coins)
50,000 coins (Worth about 0,50 dollars)
Double Speed (Worth 5,900)
or if you are unlucky you can win nothing.