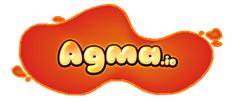 Welcome to the Agma.io Wiki, Powered by Agma.io Fans!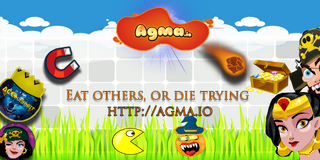 Curiosity
In Agma.io when you play you can share in the chat your level (writing /level in the chat); you can share how many hours and minuts you have played (writing /hours in the chat) and you can share your rank in the game (writing /rank in the chat). You can also shake yours pieces (writing shake in the chat); you can flip yours pieces (writing flip in the chat) and you can spin yours pieces (writing spin in the chat).
  Agma.io is one of the popular games.io for its maintenance, Agma.io has players GOLD MEMBERS, being a member of gold you will have access to our miniatures limited edition, your name will come out with COLOR GOLD, so people will recognize you CERTIFICATION as GOLD MEMBER.
Agma.io Blog and Forums
Agma.io has a blog created and sustained by Squid, a an agma player and owner of the agmaforum.com community. The Agma.io Blog contains news and information about Agma, updates, features, tips, tricks, and free giveaways such as bots and coins.

Blog link:
Agma.io Forums Daily Reward
AgmaForum.com has frequent giveaways of bots/minions and coins. You have to sign up at the forums, and make some posts. The forum owner Squid will reward your agma account with bots or coins, completely for free.
Agma-Forums link:

Agma.io In French
At the following link you will find the french agma.io wiki whit informations and others tips about agma.io's world !
Popular Articles
Latest activity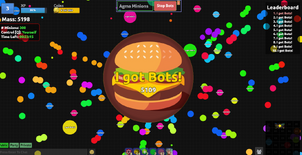 In this game you can get up to 300 bots! Bots are one of the things .io players like, so agma.io made it so you can either buy, or use your coins in game. There is all sorts of bots you can get like 100 mass bots for 1 hour, the least you can get is 10 bots.
==
Agma Discord == https://discordapp.com/invite/agmaio
Agma Spin Wheel
In Agma.io you can find a spin Wheel, where you can win a free reward every 24 hours. You can also buy spins for 16,000 coins. You can win many diffirent rewards in the spin wheel.
Prizes:
Santa Hat (Worth 4,000,000 coins)
Instant Recombine (Worth 9,000 coins)
Spawn Mothercell (Worth 38,000 coins)
Spawn Portal (Worth 39,000 coins)
Growth Potion +1000 (Worth 12,000 coins)
50,000 coins (Worth about 0,50 dollars)
Double Speed (Worth 5,900)
or if you are unlucky you can win nothing.

There are several tricks to earn coins here I will show you 2: - You can enter ultrasonic either from Europe or North America and in the gold block give mass to exchange them for coins but be careful when you put it in gray you will have to wait for it to turn golden again or remove the mass -In the shop on the left you will see some letters with coins that say ¨ [free coins] invite friends¨ and there you can refer a friend and when he reaches level 5 he will give you a point: - with 5 points you gain 40 bots for 1hr - with 10 points you gain 100 bots for 4hrs - with 15 points you earn 50k coins - with 20 points you earn 100k coins   These were my favorites in my personal opinion. What do you think?